FIND IT DOWNTOWN – PRINT EDITION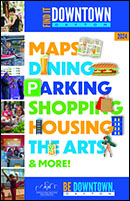 In addition to our online Find It Downtown tool, each year, the DDP prints more than 25,000 copies of this popular consumer's guide to downtown. We distribute copies to all downtown employees, all downtown businesses, and to other key locations. To request hard copies of the guide, call (937) 224-1518.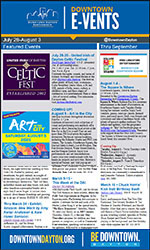 We produce a variety of free email newsletters, each designed to bring you the information you're most interested in about downtown Dayton.
Whether it's weekly emails with dozens of suggested things to do downtown, progress reports about downtown initiatives and fast facts about businesses and projects, or the next week's entertainment lineup for Courthouse Square, you can get your favorite downtown publication delivered straight to your inbox.
LEARN ABOUT & SUBSCRIBE TO OUR E-NEWSLETTERS
Each year, the DDP works on a variety of strategic initiatives focused on strengthening downtown Dayton.
Our most recent Your Downtown Update progress report provides a brief update on the status of those initiatives, as well as an update on downtown development activities throughout the year.
2023 3RD QTR REPORT
2023 2ND QTR REPORT
2023 1ST QTR REPORT
2022 YEAR-END REPORT
When members of the Downtown Dayton Special Improvement District (SID) vote to renew the SID for another term, they agree to a plan of services to be carried out by the DDP. These services center on the five key areas of focus for the DDP.
More information about the downtown Special Improvement District can be found here.
DOWNLOAD THE 2021-2025 SID SERVICES PLAN (PDF)